'OUR CHALET' — the International Home of Guiding
There are, I expect, numbers of Guides in Britain, and, indeed, all over the world, who only know "Our Chalet" as a remote fairy palace miles away from anywhere, high up in the mountains of Switzerland. I might add that my knowledge of this mystical abode amid the snows extended no further until last Whitsun (1935), when I had the privilege of visiting our delightful Guide home, with a party of Cadet Rangers from Leeds.
It is very true to call it our "Guide Home," because everything there seems to suggest the Guide Spirit and Ideals, everything seems to belong to our great Sisterhood, and we really feel that we are one big family extending over the whole world.
What a warm welcome awaited us when we first arrived at "Our Chalet"! How cheery and bright everyone and everything was! We were greeted in true Guide style by the Guide-in-Charge, Falk, and Cigogne, both of Swiss nationality, Rita from Holland, and Castor from France—these four formed the Staff, or people in charge. Then there were quite a number of Guiders and Guides from various parts of the world, even including one girl from Tasmania!
One might think that here would come the language difficulty, but, oh dear, no! A cheery grin and handshake and we were soon all on the best of terms. It was quite surprising how useful our slight knowledge of French and German was, because even the two Dutch Guides spoke French quite fluently. We learned later that Falk could speak six languages and Cigogne five; and it really was marvellous to hear them laughing and joking at meal times in first one language and then another without any apparent effort.
During our short week's stay in Switzerland, we seemed to do such a lot of wonderful things that there really is not space to write in detail about everything, so I though I would tell you something about the Chalet itself.
How well I remember my first glimpse of "Our Chalet," high up on the sunny slopes of the Adelboden Valley, as we were careering madly along the precipitous mountain road in the bus, which brought us the ten miles up the valley from Frutigen Station. There it stood, the largest Chalet for miles around, with the Guide World Flag and Swiss Pennant proudly fluttering from its flagstaff. We had about twenty minutes stiff climb up from the road, and then we were actually entering our own Guide Chalet. How thrilling it was going through all the rooms that had been lovingly furnished by our sisters from all parts of the world—the writing-room, given by America, and containing all sorts of interesting Girl Scout lore, and also some fine birch bark scrolls; the library, or Great Britain Room, in which reposes the Chief's desk, and books on all kinds of things, from Guiding and Nature lore to a Gasc's French Dictionary; the dining-hall, in which were proudly hanging portraits of the Chiefs on either side of the World Flag, and in which was a huge, old-fashioned open hearth with a real cauldron suspended over it! Then we went into the kitchen, a very up-to-date place, with all sorts of modem conveniences, and into which we were only allowed for the purpose of helping to dry the dishes after meals! Here, again, everything was so " guidey," because all the china was decorated with blue rims and golden trefoils on a plain white ground; all the cutlery had engraved trefoils; and even the tea-towels had blue and yellow embroidered trefoils.
Upstairs, of course, were the bedrooms, arranged to hold three, five or seven, and decorated in different colours. I slept in a "five-room," which had five dear little beds all in a row, a stool and rug beside each, and a wardrobe opposite each bed along the other wall. Each room was provided with a dust-pan, brush and duster, as we were all expected to look after our own bedrooms.
The top storey consisted of one huge room, which would accommodate thirty people sleeping on the floor on palliasses; while in the basement there was a big bathroom with three bath-cubicles, two showers, and about a dozen wash-basins. The laundry, storage cellar and the boot-room, too, are on this floor, which is constructed of concrete, and forms the foundation for the rest of the Chalet, which is built of wood.
All around the Chalet were fields of gorgeous alpine flowers, some of which we collected and sent home to England in boxes. Indeed, the shutters of all the windows were beautifully decorated with gay, fantastic flower designs, no doubt inspired by this profuseness and variety of the Alpine flora.
There were sixteen people in the Chalet when we arrived, Swiss, Dutch, French and English being the only nationalities represented. Another party from London arrived on the Saturday, and then we were divided into four patrols, named after the surrounding mountains—Wildstrukel, Elsighorn, Lohner, Bonderspitz. This was for the purpose of work, which we all thoroughly enjoyed—waiting at table during the meals; helping with the drying and putting away of the dishes; preparing any vegetables which were required for dinner; sweeping and dusting the living rooms and corridors before breakfast, and cleaning the bathrooms afterwards. There were two very jolly maids who did the cooking and cleaning, so I think you will agree we were thoroughly spoilt during our wonderful visit!
B. COLLINS.
SPRING
(by Pauline R. Walker)
Beauty in the undergrowth,
Beauty in the sky,
Daffodils and crocuses,
Sun-flecked clouds on high.
Look! A primrose lifts its head.
See! A violet
Drowsing 'neath the mossy stones
By the rivulet.
Day by day returning birds
Crowd the mist-blue sky,
Planning flights for coming days
When fledglings start to fly.
Whisp'ring winds in playful mood
Scatter at our feet
Blossoms pink and white and rose ....
Spring is hard to beat!
THE BLUEBELL WOOD
(by Marjorie Ludbrooke)
A winding path and a shady dell,
Where Anemones grow and the wild blue-bell,
A pretty sight are these flowers so gay
In the Blue-bell wood on a bright Spring day.
A nice picnic spot that nobody knows,
Near a clear babbling brook that gently flows,
And when all is quiet the rabbits will play
In the Blue-bell wood on a summer's day.
When the horse-chestnuts are turning to brown,
The red Autumn leaves then come falling down,
They make a soft carpet that covers my way,
In the Blue-bell wood on an Autumn day.
NOW, IN SUMMER
(by B. Wood)
Now I'm lying in the grass
Not far from the road,
Now two haycarts slowly pass
Taking home their load.
Now a ladybird is crawling
Up the five barred gate,
Now in the wood, a cuckoo's calling
"Cuckoo" to his mate.
Now a gentle breeze is blowing
Waving the ripening corn,
Now in the field men have been mowing
Hay, since early morn.
Now a rook flies with a caw
From some distant tree,
Now the church clock's striking four,
And I'll go home to tea.
"GREY OWL"
Grey Owl—just an ordinary North American Indian—but to us he was "the" Indian. He was very much like other Indians, I suppose—clad in buckskins, with a hatchet-like face and jet-black hair tied in a short rope and flung carelessly over his shoulder, but his wonderful work singled him out, in my mind at least, as a hero. Could anything be more wonderful than that all animals, in their own wild homes, should look on you as their friend?
Anahareo, Grey Owl's wife, should receive our praise first, though. Before he met her he was a trapper and killed as any animals as he wanted for their fur. She had a feminine horror of this hateful work, and gradually she influenced him with it. Now he has learnt to love and care for his little "brothers and sisters."
I do not think Grey Owl was ever cruel. He has a kind, firm face, and we could see he liked talking to us. His voice is deep, as befits a man from those tall forests, and he spoke lovingly of his beavers. How I would like to share his life in those forests, to go skimming over the smooth lakes in that shapely, white canoe and sleep in a tent or a cabin. He has devoted his life to the care of his little friends—he has come to England to tell people about them so that they will be protected. Let us hope that he will inspire the English people to take care of their own "wild life."
HILDA M. HESTER.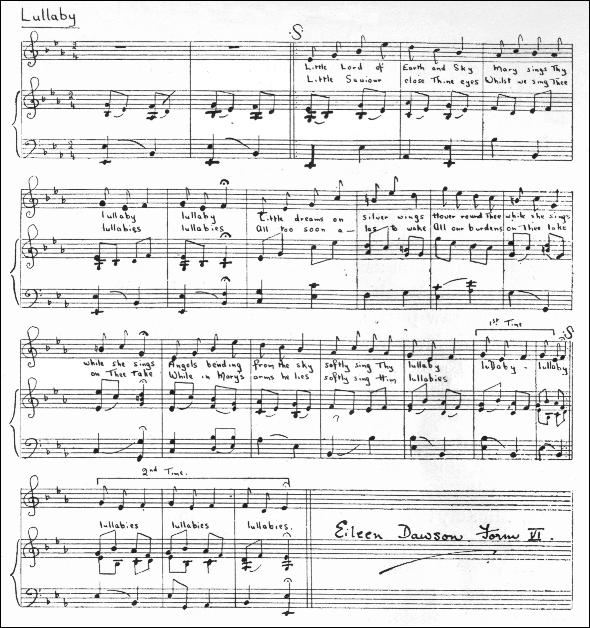 ALL FOR DR. BARNARDO!
On Wednesday, July 17th, the Preparatory Department held a Bazaar in aid of Doctor Barnardo's Homes. There were stalls for cakes, flowers, fruit and work. Our mothers were most helpful and sent all they could: so all went nice and smoothly.
****
Next we had a Play: of course it was a Pageant of Empire.
****
Then we had the Band. The Kindergarten played, "What does the Dog say?" Form I B played "Upon Paul's Steeple." Then Form I A and Lower II played "O, dear! what can the matter be?" "In Ceylon" and "When Knights were bold."
****
After all that, we got ten pounds at least. All for Doctor Barnardo!
M. BALDEY (July, 1935).
TODDLES
Once there was a little boy called Toddles. He was a very mischievous little boy. One day his mother went out, saying, "Now, dear, be a good boy while I go and do my shopping. I'll be back in half-an-hour. Goodbye, dear."
"Good-bye, Mummy," said Toddles. "I'll be good." And good he was. For he noticed a pair of daddy's shoes, waiting to be cleaned. So Toddles very kindly got out the boot box and cleaned them. Then he went upstairs to get a handkerchief, and he saw that mummy hadn't made the bed yet. So he climbed on the bed and thumped the pillow and threw the clothes on as well as he could, for never in his little life had he made a bed. When mummy came in, Toddles was sitting at the table doing a jig-saw puzzle.
"Hullo!" said his Mummy. "Who's cleaned daddy's shoes?"
"I have," said Toddles.
"O, you little darling," said his Mother, giving him a kiss. "I'll just go and get my things off. Oh, and he's made the bed, too; I will have to reward him. I will take him to the pictures this afternoon."
"Now, dear, be quick and get your dinner, we are going to the pictures this afternoon."
"O, good, Mummy! Mummy, are we going to see 'Top Hat?'"
"Yes, dear," said his Mummy. They get dinner.
"Now, dear," said Mummy. "Get your feeder off and go upstairs; I'll come when I've washed up. I've only got your mug and plate and my cup and saucer to do. Off you go." So he went.
When she got upstairs. Toddles was lying on his bed, waiting for her to come and wash him.
"Now, dear," said his Mother. "Get your rompers off and come into the bathroom."
(The water) sssssssssssss
"Come along. Toddles and get washed or we will be late for the pictures and we shan't get a seat where you will be able to see. Now, put your hands in the bowl, there's a good boy."
"All right. Mummy," said Toddles.
"Now, go and get your little pink trousers and jacket. Be quick!"
So they get ready, and went to the pictures.
"Look, Mummy; look at Betty Boop!"
"Yes, dear," said his Mummy. "Don't talk!"
"Oh, Mummy, that's the King, isn't it?"
"Yes, dear," said his Mummy. "Keep hold of my hand in this crush, else you'll get lost." So they go home.
MARGARET MAWER, aged 8 years (Lower II.)
GLIMPSES OF LIFE IN SIERRA LEONE
"We have two bathrooms in our bungalow, separated by a partition which does not quite reach the ceiling. One night I was wallowing in the bath when I saw a slender black snake, the thickness of my finger come gently wriggling over the partition! Out I hopped and, clad only in a towel, fled out on to the verandah, shouting that there was a snake in my bath, and would some one please come and deal with it. A reassuring voice from the neighbouring bath, however, called out that I needn't be alarmed. 'It's only a rat. I've got its front end on my side, and you've got its tail!' .... We had another rat who visited us and was tall enough, when standing on its hind legs, to drink out of my water jug—ordinary bedroom wash-stand height. And, I must say, he was a very noisy drinker!
****
Just before the rains there seems to be a series of evening meetings—held preferably in our bedrooms—of Our Dumb Friends League. One night, before I could get into bed, I had to scrape off my mosquito net a thick coating of winged black beetles! .... A mosquito net gives one a marvellous sense of security. . . . Another night, on my way to the bathroom, I met a bush spider, about ten inches across, and a centipede (or was it a milipede?) the size and shape of a fountain-pen on wheels, five cockroaches and a scorpion.
****
We are not of course in the heart of the jungle, or anything exciting and picturesque like that. Our part of the world is comparatively civilised, and a few snakes and poisonous insects are the only really dangerous beasties we meet. Monkeys are plentiful, bush cats and an occasional leopard prowl around. Our butterflies and smaller birds do their best to make us realise we are in the tropics by their gorgeous colouring .....
****
Most people expect one to meet lions in Sierra Leone, because of its name, but actually the only lions ever seen in the country are a few which stray over the Liberian frontier. There are two popular reasons for the name—one that the mountains behind Freetown are shaped like a lion. I've exerted my imagination on them for a year, but have as yet seen no resemblance—and the other that the continual growling of thunder is like a lion roaring. I don't think much of that one either.
****
Twilight was a disillusionment. Having been instructed from my youth up that in the tropics there is no twilight. I expected to see the sun rush up into the sky, like the opening of a pantomime transformation scene, at 6-0 a.m. and drop plonk! into the sea again at 6-0 p.m. prompt. But it doesn't. Twilight is shortish, but it is definitely twilight and a very beautiful time of day at that."
Extracts from a letter from BARBARA LYNE
(a former Editor of the Magazine.)
VERSION
(by S.C., Latin Group)
"Insist on the best
And buy John West."
****
"Optimus e toto qui venerit aequore piscis
Tu cognoscere vis? Hic, domina, invenies.
Omnes fulgenti captos claudo ipse metallo
Solis ab occasu. Delige non alios."
SCHOOL ACCORDING TO THE POETS
8-40 a.m.
"No, no, the bell. 'Tis time that I were gone.—Shakespeare.
Comment by Mistresses at 9-30 a.m.:
"What strange drowsiness possesses them?"—Shakespeare.
Recess:
"And munched, and munched, and munched."—Shakespeare.
12-30 p.m. (Whisper):
"Is it near dinner-time?"
"I would it were."—Shakespeare.
12-50 p.m. bell
"Is a wild call and a clear call that may not be denied."—Masefield.
"Oh, 'twas a din to fright a monster's ear;
To make an earthquake! Sure it was the roar
Of a whole herd of lions."—Shakespeare.
After Dinner:
"There one walk'd reciting by herself, and one
In this hand held a volume as to read."—Tennyson.
Singing:
"Enough! no more
'Tis not so sweet as it was before."—Shakespeare.
Prep.:
"Silence! one word more shall make me chide, thee."—Shakespeare.
Cookery:
"No, let me taste the whole of it."—Browning.
Swimming:
"Go make thyself like a nymph o' the sea."—Shakespeare.
Form X at French Phonetics:
"I heard a thousand blended notes."—Wordsworth.
English (Poetry Lesson):
"She uttereth piercing eloquence."—Shakespeare.
Latin:
"I am dumb."—Shakespeare.
In the Library:
"And I shall have some peace there."—Yeats.
Exams.:
"The hour's now come."
"Had I but died an hour before this chance
I had lived a blessed time."—Shakespeare.
Sports Day:
"Every one's voice was suddenly lifted.—Sassoon.
"Now Hercules be thy speed."—Shakespeare.
"The eager fret of hurrying feet."—St. John Adcock.
Debating Society:
"Let them fight it out, friend!
Things have gone too far."—Browning.
The School Orchestra:
"Sometimes a thousand twangling instruments
Will hum about mine ears; and sometimes voices."—Shakespeare.
The Mistresses:
"These are counsellors
That feelingly persuade me what I am."—Shakespeare.
M.H. & R.C.
WHAT AM I?
(by R.C.)
My first is in needle but not in stitch.
My second is in land but not in ditch.
My third is in war but not in peace.
My fourth is in nephew and also in niece.
My fifth is in Fawkes but not in Guy.
My sixth is in weep but not in cry.
My seventh is in book but not in tale.
My eighth is in strong but not in frail.
My ninth is in Leeds you will soon derive.
And the answer is . . . ? I'll leave you to contrive.
RIDDLE-ME-REE
(by B. Standeven)
My first is in pebble but not in beach,
My second is in snail but not in leech,
My third is in water but not in milk,
My four is in cotton but not in silk,
My fifth is in silver but not in gold,
My sixth is in new but not in old,
My seventh is in orange but not in pear,
My eighth is in horse but not in mare,
My ninth is in duck but not in jay,
My whole is a place we all think O.K.
A PAGE FROM THE DIARY OF A GIRL LIVING IN THE YEAR 3936 AD
Rontembrie 21st
To-day I visited the ruined city of Leeds, where I saw some very strange sights. What queer methods of transport they had, going about in long closed-in rooms. Our moving roads are much more convenient, healthier and quicker too. The children learned their lessons from books (how very boring!), our system of hearing over the air in song form and writing it down in cypher is much more interesting. Their towns were very ugly, filled with black morose buildings; the pink and white houses of to-day are much prettier.
Romtembrie 25th
To-day I went with Catherine to buy my new shoes, which will enable me to walk over the Channel to France in half-an-hour. Evelyn went to America yesterday by means of her wings. She told me by wireless that it took five hours. When we went, it only took us four and a quarter hours.
Rontembrie 28th
To-day is my birthday. I had twenty-two presents, including a lion and its two cubs. As to-day is the first day of the general holiday, the weather was fine. Poor Molly has her birthday in Soltembrie, when it rains for the crops. In the twentieth century the Weather was uncontrolled. (Poor things living then, it might rain in the holidays.)
J. TAYLOR.
MAGAZINES RECEIVED
We beg to acknowledge the receipt during the year of the following Magazines:—
Leeds Modern School.
West Leeds High School.
Cockburn High School.
Roundhay High School.
Wallasey High School.
Lydney Grammar School.
Redland High School.
I.P. Missions Girls' High School, Surat, India.
High School for Girls, Southport.
St. Margaret's School, Polmont, Stirlingshire.