"[The thing about] Miss Goodall's classes were that my friends and I in 1A wondered how she could possibly know all that when she had never been married!" Margaret Collie '59-'66.
"The other memory, maybe unique to me, is that she said you did not necessarily need a bed - a chair would suffice. At eleven, I could not get my head around that at all." Margaret Collie '59-'66.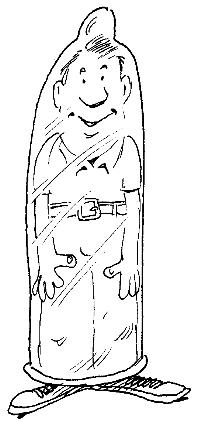 "The extremely well remembered sex lessons - I particularly remember the sanitary towel Miss Goodall held up with some explanation I expect - we were all stifling our giggles so much I missed the words that followed." Jackie Rowe '59-'64.
"Just to add to the sex education lessons, I remember having to bite on part of my hanky to stop myself from laughing." Sheila Galbraith '60-'67.
"Do you remember the incinerators for sanitary towels?" Janet Ball '56-'61.
"I also remember Miss Goodall and her advice. Always wear a pair of white underpants underneath your navy bloomers just in case! She also had a few interesting anecdotes about rabbits which finally enlightened me what life was all about!" Carol Peacock '55-'61.
"The Hygiene lessons were unique. At the age of 11 we were given a "Sex Lesson" in the main hall with a Doctor (it was emphasised to our parents that she was a doctor and they had to sign for us to attend). She had a whole lot of diagrams which were displayed on a flip chart but she forgot to mention that she was talking about men and women as well as animals and at the end of it some of us knew little more than when she had started." Hilary Steeple '44-'51.
"I do remember a lady coming into school when we were much older (fourth form?) She brought a cardboard box with a slit in the top into which we could put our questions anonymously. By this time, most of us thought that there was nothing she could tell us that we did not know already and some girls put in ludicrous questions to try to embarrass her. I think these sessions were held for small groups in Room 19. It was certainly an upstairs room because a window cleaner appeared on his ladder just as she had drawn some graphic diagrams of 'parts' on the blackboard. She concealed them until he had gone and did not appreciate the suggestion that the young man was there for a practical demonstration." Margaret Collie '59-'66.
"Miss Goodall - I too remember the scintillating sex ed lessons with the shoe box and the rabbits. It's a wonder we weren't all scarred for life." Carol Newton '64-'70.
"I also recall a Health examination which we had on starting at the School when girls had to arrive in their knickers with our coat over the top." Susan Moon '65-'71.
"I remember being totally uninformed by the Hygiene lessons about sex education. I thought human reproduction had something to do with frogs and rabbits courtesy of Miss Goodall." Pamela Nunn '67-'74.
"However I remained the naive little girl for many years. Even when my parents signed a form to say we could have sex education lessons in our 3rd year, it didn't do me a bit of good. They never mentioned human reproduction; it was all about how rabbits reproduce. I still didn't understand what they were talking about until a senior girl, Carol Evans (anyone remember her) told me how and I thought I was going to be sick." Maureen Whitehead '59-'64.
"Rabbits were OK and I thought I had learned the appropriate details. However.... when taking my biology GCE examination the reproductive system was a major part of the exam but - horror and embarrassment - the diagram one had to label was of a man! I held my arm as far around the paper as possible in case anyone could see the various bits I was labeling." Penny Woodings '52-'57.