In 1922 the school acquired a science mistress called Miss Jane Pru Armes. 1939 saw the outbreak of WWII, and in June of 1940 Miss Armes, aged fifty-nine, retired from teaching (see 1940 School Magazine).
In September 1940, along with her sixty-four-year-old spinster sister Eliza, she sailed for Canada to join her brother. They sailed from Liverpool on The City Of Benares in a convoy of nineteen ships. The Benares was carrying 100 evacuee children, accompanied by 'suitable ladies' who had volunteered to escort them. Several Old Girls who were pupils at the time have told me that they believe that Miss Armes was one of the volunteers. However, this was not so. It's easy to imagine how "Miss Armes was on the ship that carried the refugee children" became "Miss Armes was with the refugee children on the ship". And so a legend was born.
The ship sailed on Friday 13th September 1940. Four days out, a German U-boat torpedoed the ship. 258 of the 406 on board were lost, including 77 of the 100 children. Six of the ten ladies accompanying the children were lost at sea.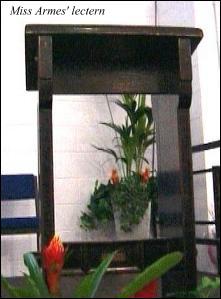 Suspicion and scandal followed as relatives questioned why the naval escort had abandoned the convoy twenty-one hours before the Benares was sunk.
The full and tragic story can be found in the book 'Children of the Benares' by Ralph Barker which can be purchased from www.avidpublications.co.uk.
The school remembered Miss Armes with a lectern and an entry in the 1947 post-war school magazine (see 'Documents' page). Click here to see the inscription on the lectern.
Elisabeth Stephenson has supplied the following information.
"The City of Benares was a passenger liner of 11,000 tons which left Liverpool for Canada in September 1940 with 500 on board, including 100 evacuee children and their escorts. Five days out from England, and six hundred miles out to sea, it was torpedoed by the U-boat U-48. Of those on board the ship, 325 were drowned, including most of the children. Many of the survivors were picked up by HMS Hurricane. After this tragedy, no more children were evacuated abroad under the scheme. On September 17th 2000, the 60th and last Memorial Service for the Lost Children and Reunion of the Survivors of the City of Benares was held in London." Elisabeth Stephenson '59-'66
CLICK ON THE LINKS BELOW TO SEE SEVERAL YORKSHIRE POST NEWSPAPER ARTICLES CONCERNING THE SINKING OF THE BENARES AND THE LOSS OF MISS ARMES.
23rd September, 1940 -
'Children's Ship Sunk By U-Boat' 'Murder At Sea', and 'List of Casualties'.
24th September, 1940 -
'Leeds Sisters Missing From Children's Ship' and 'Dastardly Act'.
25th September, 1940 -
picture of The City of Benares.
27th September, 1940 -
'Six Children Found In Boat'.